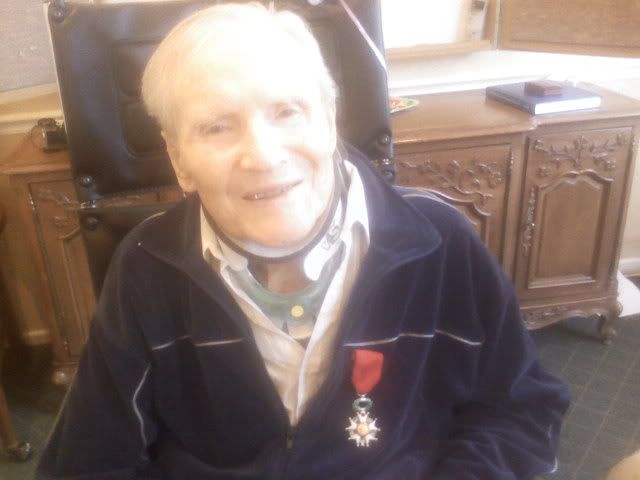 Today is Uncle Tom's 89th birthday. And today, he recieved a very special present from the French people.
Aujourd'hui, il a été nommé chevalier de la Légion d'honneur pour ses services militaires pendant la Seconde Guerre Mondiale.
Today, he was named Knight of the Legion of Honor for his military services during World War II. The Legion of Honor is the highest military honor given by the French Republic. Uncle Tom flew thousands of bombing missions, and in particular, one mission in which a German shell exploded above his head and that of his co-pilot, leaving 175 pieces of shrapnel in his head. He was passed out for six to seven minutes. When he came to, he knew he was in trouble because, as he said, "The English Channel was overhead." His bombadeer insisted that he be given a shot of morphine, but Uncle Tom refused. Without the benefit of GPS or a map, much less knowing where they were, he and his crew found their air base and barely pulled out a landing. He was treated for his wounds, awarded the Purple Heart, and three weeks later, was out on another volunteer mission.
He flew missions all over the European theatre throughout the war, earning commendation after commendation:
Silver Star - Distinguished Flying Cross with Oak Leaf Cluster
Air Medal with four Oak Leaf Clusters
Pre-Pearl Harbor Yellow Ribbon
British Distinguished Flying Cross
French Croix de Guerre
Presidential Citation with Oak Leaf Cluster
European Theatre Ribbon with Three Stars
American Theatre Ribbon with One Star
China-Burma-India Ribbon
European Theatre of Operations with three Stars
WWII Victory Medal
As well, paperwork has been submitted for him to receive the Distinguished Service Cross, which should have been awarded to him for his role in the
Ploesti raid of 1943
, but was lost in the turmoil of the times.
Despite all of this recognition, Uncle Tom considers his greatest achievement throughout the war was that in all of his flying,
he never lost a crew member
.
Be shocked. This is actually a serious post.
Current Location:

Llama Lair

Humeur actuelle:

so proud I could burst

Musique actuelle:

Compression of Time - Nobuo Uematsu